Friday Favourites from IKrush
Good afternoon everyone, happy Friday!
I hope you've all had a lovely week and are looking forward to the weekend. I've been on holiday since Tuesday and I'm vlogging the whole trip so I can't wait to show you what we've been up to.
Today I wanted to share with you a few of my favourite items from IKrush. I placed an order with them recently and thought I would show you what I got and what's on my Wishlist.
High Waist Button Up Check Trouser
These are so comfortable and are certainly one of my favourite wardrobe pieces right now. I've been wearing these trousers with mainly long knit jumpers however now that the weathers turned a bit warmer, I will also start wearing them with t-shirts, bralettes and shirts. I find them so easy to wear and you can either dress them up or down depending on the occasion. I'm wearing a size small (I'm normally a size 8) and they come up true to size.
Tie Front Long Sleeve Shirt in Black
This is something I currently have in my basket and will be my next purchase. It's perfect for the summer as the fabric looks very light and cooling. If you're looking for that 'jeans and a nice top' outfit, then this is perfect.
Crochet Lace Mini Dress in White
This dress is so pretty! I wish I'd seen it before I came away on holiday as it's the perfect summer getaway dress. As I'm in Rhodes and it's quite casual, I would have worn this as an evening outfit more so than a day outfit. I would pair it up with a straw bag, a delicate necklace and some sandals.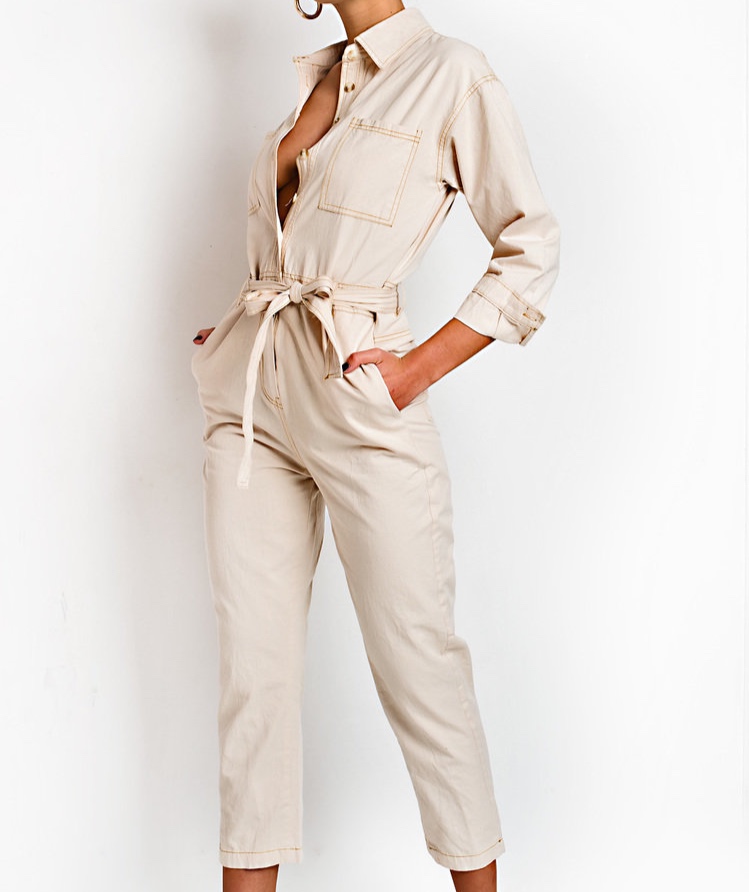 Tie Waist Button Up Utility Jumpsuit in Beige
I love this jumpsuit so much! I love the colour, the length, everything. I'm quite short so I often find that jumpsuits are too long for me which is fine but I'd rather not have to go through the hassle of trying to take them up every time. The length of these trousers are perfect as they can fit all different heights.
Tie Waist Shirt Dress in White
This is also a very pretty dress and perfect for holidays. It's very refreshing and it's the type of dress you would find in Zara. If I had brought it away on holiday with me, I would also wear it during the evening with sandals. However if you're looking for a party/night out dress, this would look lovely with a pair of heels!
Cargo Shirt and Shorts Co-Ord in Stone
I love co-ords because you can often get 2 items for the price of one. If they come as a set then you're winning! This may not be everyones taste, but I thought this co-ord was very pretty and would be perfect if you have any festivals this summer. I would suggest going up a size in this as the model wears a size 8 and I would prefer the shorts to be a little less fitted. You could also open the shirt and wear a cute bralette or crop top underneath.